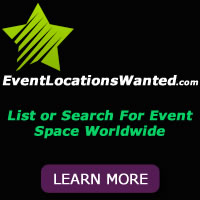 List your home or business as an event venue or location rental.
Q: What type of properties are needed for event locations?
A: All sorts of venues are requested. We get inquires for private homes for filming and parties. Many locations are needed for weddings and temporary rentals for corporate sporting events and couples seeking unique honeymoon getaways. There are photographers looking for the perfect venue for photography projects. Many types of location venues are needed worldwide.
Q: Is there a fee to post my event venue?
A: There are a number of profile venue options depending on your preference.  Our basic listing is free or for additional pictures there is an additional small cost. (Note: FREE listings are month to month and a renew link will be email monthly so you can renew your free listing.)  There are no additional fees from the rental of your property. Owners negotiate directly with the company or public seeking to rent your venue.
The list of locations needed are endless.
We are listing venues including:
Homes
Estates
Landmarks
Bed & Breafasts'
Business of all types
Banquet halls
Dance Halls
Warehouses
Vacant buildings
Restaurants and bars
Farms and ranches
Event Services
Vacant land for large events and promotions
Wineries/museums
Apartments and Condos for temporary rentals for film crew, cast and corporate VIPs.
Barns and cabins
And much more!
If you want to generate income and have a private or business rental or venue to offer, create a profile of your property on our web site for free to attract party planners, corporate event project coordinators and location scouts for film and television.
Owners negotiate directly with the company or public seeking to rent your property.
List your event space rental at EventLocationsWanted.com
Event space is needed for everything from weddings and special events to those in production looking for a photography or film location.
If you have a home, hotel, mansion or unique event rental and want to offer your property as a event location space, create a event location profile. Simply add details and photos of your venue for those seeking locations for everything from wedding space venues to private and corporate functions.
How it works:
Once you list your event space listing, it will be reviewed, and when approved added to our database so users from all over the world can contact you with their event inquires when viewing your event space information.
Event Locations Wanted does NOT collect or require any fees from the rental of your property. Owners will be contacted directly by those seeking event locations for their project and will negotiate with you for cost and further arrangements.
Event Locations Wanted Displays Special Event Space Rentals Including:
Wedding venues
Meeting Rooms
Event Party Rentals
Event Home Rentals
Honeymooners seeking unique location getaways
Corporate looking for a place to hold seminars, themed company parties or a place for them to unveil new product lines to clientele.
Those seeking a place for photography or film projects.
Examples Of Event Locations Wanted:
Distinctive event rentals
Vintage event rentals venues
Wedding venes or party rentals inside or outdoors
Delegates from other countries looking for US venues
Those seeking unique venues for any type of project anywhere on the planet.
If you have an event venue or looking to generate revenue from your property as a event space rental, create an online profile and show off what you have to offer. If you need assistance with setting up your distinctive event rental or have additional questions, please contact a ELW staff member.
Tags:
wedding venues
event rentals
list business
add my business
event rentals
event venues
list my hotel
event directory
event space rentals
event party rentals
event home rentals
event space rentals
vintage event rentals
special event rentals
event home rentals
event party rentals
distinctive event rentals
vintage event rentals
hotel event space
resort event space
Introducing our new events calendar by popular demand
The new section list my event calendar is now available for those who want to post their events and affairs to the public. Share your events around the web on Event Locations Wanted
List your events on Event Locators Wanted Free. Click here to enter the details of your event
List & promote your next event:  Once your event is listed, it will display contact information, web address, dates and times, ticket prices, a Google calendar and more.
Put the details of your event on our website free and easy.
Event Listing Web Site Calendar – How to Add an Event:
Click here and enter the details of your event
Our staff will review and post within 24 hours.
You will receive an email notification that your event is now on the calendar so you can review for any edits or update
Quick, easy and free
Contact us for any questions:
Office: (760) 735-8690 9am to 5pm Monday-Friday (PST)
Email:EventLocations@eventlocationswanted.com
Welcome to Event Locations Wanted
Unique Locations for Film, Photos and Events
Let us help you take the frustration out of looking for your next venue.
Exploring event venue options that are unique, different or perhaps you will uncover an undiscovered gem.
Whether you need:
a unique wedding venue from New York to California or anywhere worldwide
a spot in Arizona for western flavor
a fairy tale castle tucked away in green rolling hills of Europe
a private club for your company Christmas Party search
a remote and picturesque cabin or beach getaway for your honeymoon
Search or post your location inquiry on Event Locations Wanted.
Our ever growing online database offers wedding scenes, elegant and unique locations for corporate events, or spots for a memorable group outing. If you are production company-location scout seeking settings for your film or photography project, search or list your inquiry on the web site for more options in your hunt.
Explore our site for unique settings or unusual buildings. Review our ever growing list of event locations worldwide. We list venues for weddings, workshops, private parties, corporate events, and distinctive locations for any number of affairs from private venues to locations where you can hold large gatherings to film and photography settings.
Perhaps you'll locate a "just as you imagined" backdrop. When you find a property on our web site and want to contact the owner, you will be able to view photos, direct contact information of the person offering the venue rental and details of the venue. Call or email them directly with your questions or schedule an appointment for a "go see."
As our online list of property offerings expands, yet you are unable to find that perfect locale, send us a location inquiry, we will post it on the web site and send your inquiry to our community of owners who offer event and film and photography rental locations worldwide complete with information on how to contact you directly.
There is no charge to list your venue request on the site or in our newsletters, listings accepted with an up to a year in advance notice. Post your query for honeymoon locations, photography locations, family reunions, business events, weddings in extraordinary places and film or photography projects.
To send us an inquiry, click here to fill out our short and simple form. It will be reviewed and posted within 24 hour in most cases. You can also contact us via email or phone during business hours.
Contact us for location requests including:
Wedding location ideas
Photography locales
Event venues of any size
Film or television location rentals
Private honeymoon getaway rentals
Temporary rentals
Unique location requests
Office: (760) 735-8690 9am to 5pm Monday-Friday (PST)
Email:EventLocations@eventlocationswanted.com
Event Venue Categories
Sharing