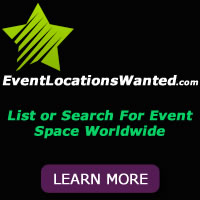 List your home or business as an event venue or location rental.
Q: What type of properties are needed for event locations?
A: All sorts of venues are requested. We get inquires for private homes for filming and parties. Many locations are needed for weddings and temporary rentals for corporate sporting events and couples seeking unique honeymoon getaways. There are photographers looking for the perfect venue for photography projects. Many types of location venues are needed worldwide.
Q: Is there a fee to post my event venue?
A: There are a number of profile venue options depending on your preference.  Our basic listing is free or for additional pictures there is an additional small cost. (Note: FREE listings are month to month and a renew link will be email monthly so you can renew your free listing.)  There are no additional fees from the rental of your property. Owners negotiate directly with the company or public seeking to rent your venue.
The list of locations needed are endless.
We are listing venues including:
Homes
Estates
Landmarks
Bed & Breafasts'
Business of all types
Banquet halls
Dance Halls
Warehouses
Vacant buildings
Restaurants and bars
Farms and ranches
Event Services
Vacant land for large events and promotions
Wineries/museums
Apartments and Condos for temporary rentals for film crew, cast and corporate VIPs.
Barns and cabins
And much more!
If you want to generate income and have a private or business rental or venue to offer, create a profile of your property on our web site for free to attract party planners, corporate event project coordinators and location scouts for film and television.
Owners negotiate directly with the company or public seeking to rent your property.